JoAnna Brandi & Company, Inc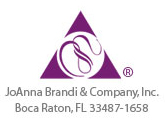 "Our mission is to create positive customer caring companies that THRIVE where the employees are happy and motivated, the customers are happy and loyal and the competitors are nervous."
We help companies increase their customer retention, loyalty and happiness and thus their profitability. We do that through consulting, coaching, training, workshops and publishing self study products. We help you activate the link between positivity and profitability. 
Through the years we responded to the needs of our clients by developing programs they needed. We help companies enhance and enrich the relationships with their customers, their employees and themselves. In fact, we believe it is the interaction of these three sets of relationships that forms a working relationship "tripod" that either supports the balanced growth of a company or throws it off balance into a less than optimal state. It's the "Power of 3" relationships that make your company strong.
As we expanded our vision, we drew in other expertise: a research company to advise and co-develop our customer satisfaction and employee studies, a change management specialist to assist with organizational development issues, a database implementation company to support customer care with useful technology, trainers with complementary skills and certifications, and experts on wellness and stress management to help our clients and their employees deal with challenges of today's business world and remain happy, healthy and positive.
We create strategic alliances with other like-minded consultants, and thus have been able to provide our clients with a broader base of services to support their goals for creating customer and employee loyalty. We are actively involved, meeting weekly, with other Positive Psychology coaches to continue to work with the advancements in Applied Positive Psychology and Neuroscience.
Our Work is Highly Customized
We facilitate the creation of new company values and cultures to help our clients develop and sustain a 20/20 Customer Focus and develop "Exquisite Customer Experiences."
We train leaders and employees at all levels of the organization to create more positive experiences for each person they touch.
We publish the Customer Care Coach® a 40 session "mastery" program that guides managers in all size companies, even small ones, coach their teams onto greatness – creating great companies to work for and great companies to business with.
We publish Monday Morning Motivation a tool to keep the whole team focused on the same thing – the customer!
Customer attrition is an energy drain on business, and that most companies have inadequate information and training to stop the loss.
Customer focus and a people oriented focus is instilled at the cultural level of the organization, along with a curiosity, an open-mindedness, and a deep desire to continue learning and changing, customer retention is sustainable and evolves into loyalty. That means every person in the organization is focused on it and is empowered to improve it.
Organizations looking to create a competitive advantage in their industry must create more "positive capacity" in their organizations. Happier, engaged employees result in happier and more engaged customers. Leaders best equipped to do that are "Positive Leaders." We have a model for Positive Leadership that will help companies evolve and adapt to the changing realities of business.
If your company is committed to customer focus as a critical part of your strategic plan, it is likely that we can help guide you on your journey.