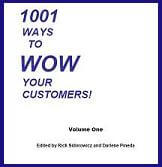 1001 Ways to Wow Your Customers was created to invite and share "stories" of great customer service. "Stories" are the medium to best describe "what great performance looks like" and "feels like" and customer service stories can entertain, illuminate and inspire. We've moved from a space on "Blogspot" to a WordPress home at www.refresher.com and have now captured the work in this first volume as an eBook.
1001 Ways to Wow Your Customers will take you on an adventure to "get" what's possible when customer service becomes strategic to your success. It can, as the editors and contributors know and have experienced, create a sustainable competitive advantage for you and your enterprise. Aside from simply being the "right thing to do" in the sense that being "of service" is a virtue and reward in itself, "wowing" your customers – creating positive, memorable and emotional experiences for your customers – will create superior returns on all financial performance dimensions. Loyal, raving fans and advocates of your product (service, offering) are your most profitable customers today. Having more of them will serve you well.
Thank you for your interest and we hope you enjoy the articles and stories. We hope you will be inspired to engage your people to create your unique 1001 ways to wow your customers and achieve your breakthrough in performance.