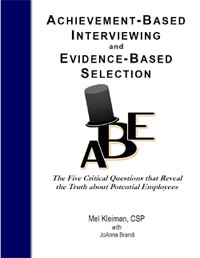 Special Report on the BEST Hiring skills for this century (so far!)
Introducing Achievement Based Interviewing and Evidence Based Selection – ABE.
ABE is a hiring system developed by Mel Kleiman and JoAnna Brandi for hiring Customer Service People that will do your company proud. It takes behavioral interviewing into this century with 5 Critical Questions to ask in every interview.
It will teach you to upgrade your listening skills and provide you with worksheets and verification forms to make sure you are hiring who you think you are hiring.
Learn how to hire great employees and not great applicants.
Learn more about the process at www.thetruthabouthiring.com
Special offer $99
100% money-back guarantee!
If this product doesn't' change your hiring skills for the better send it back and we'll refund your money.
(E-book – to be downloaded after purchase)