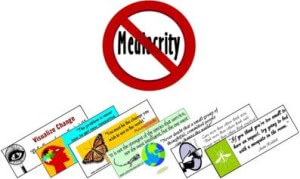 Be a Champion for Change!
Use these motivational Dare to CARE! stickers everywhere. Remind yourself and others that you choose to rise above the crowd and be exquisite.
Get all seven designs (and two bonus ones!) in our new e-sticker template pack.
DOWNLOAD the template and print onto your own Avery 5160 labels – print them in B&W or color and spread the word!
Caring IS contagious – let people know you care and tell them to pass it on. Use our "Ban Mediocrity" stickers on your outgoing mail, memos, cards, notes, packages and children.
It's the most fun $4.97 you'll spend all week!
OUR STICKERS PROCLAIM:
"Never doubt that a small group of thoughtful, committed people can change the world" – Margaret Mead
If you think you're too small to have an impact, try going to bed with a mosquito in the room." – Anita Roddick
"It is not the strongest of the species that survive, nor the most intelligent, but the one most responsive to change." – Charles Darwin
"You must be the change you wish to see in the world." – Mahatma Gandhi
"Care more than others think wise. Risk more than others think safe. Dream more than others think practical. Expect more than others think possible." – Howard Schultz, CEO Starbucks Coffee
"The problem is never how to get new, innovative thoughts into your mind, but how to get old ones out." – Dee Hock, Founder of Visa
"Only those who see the invisible can do the impossible"