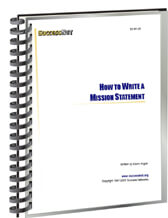 Create a mission statement that works! It's a foundational piece of your plan. More…
When you clearly know what you want to be and do in your life you feel a strong sense of mission. People driven by mission find it easier to make decisions, find the right choices and stick to a plan.
This report is helpful for anyone with a desire to achieve personal or professional goals. A clear mission statement is the foundation to your success; it reveals step-by-step how to craft yours.
Anyone can easily create a Mission Statement. We've developed a special report to guide you through a series of helpful steps to create your own impassioned mission statement.
Research shows that having a personal mission statement is key to linking to the organization's mission. Get a copy for every member of your team!