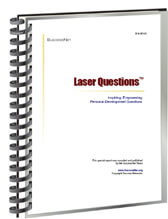 Would you like to benefit from the services of a good coach or life strategist? What could they do for you? Would they give you advice or ask you questions?
That's exactly what Laser Questions™ can do for you. It asks questions that make you think. It asks questions that empower you. This system will help you generate solutions to problems.
With this tool, you can—on an ongoing basis . . .
gain clarity about what you want and don't want
make better decisions and solve problems
stay more focused on your goals
create more balance in your life
develop and sustain better relationships
help you reduce stress and experience more fulfillment
get more organized and efficient
prioritize your goals and objectives
discover the things that stop you from succeeding