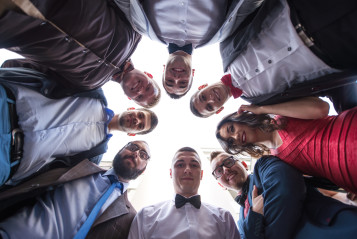 Building a dream business team can feel as elusive as cracking a secret code.
It's been said that a company is only as good as the people it keeps.
We've all heard the stories. Bad hires. Good hires. Dream hires.
Hires who ruin your business and take all your time. Hires who jump in, pitch in and make you look good.
So what can you do to build a dream business team?
Join me and over 20+ other experts from around the world as we share the best of our best ideas with you – completely free!
Building and leading a "Dream Team" doesn't have to be frustrating or difficult – we're here to help you "Crack the Code" and get started quickly on the path of success.
Dream business teams are more creative, more productive, and more fun. They engage with their work and their customers. They are solution oriented and ahead of the curve – they make you – the leader, look like a star.
Years ago, when I was back in the corporate world I remember hearing a speaker say, "Hire Stars for when they shine, the light reflects back at YOU. And from that day on, I surrounded myself with many stars and I must tell you, they made me look really really bright!
Leadership is a skill that can be learned, practiced and maybe even perfected when you have the secrets from over 20 tenured and respected business experts from around the world.
I'm so excited to be one of those guest speakers in the upcoming summit:
Crack the Dream Team Code: How to Hire, Inspire and Build a Business Team You Love
– Hosted by Dr. Michelle Pizer
The 16-day event begins on November 9th, and it is FREE!  
When Dr. Michelle Pizer talks about building a dream team, she's talking about a mindset and a strategy. It's not just about getting anyone to do the job; it's about when to hire, who to hire and how to inspire – with authority, clarity and intention. It's bossing up. It's about stepping up as the leader of your business or your department.
I'll be there to teach you how to become a "Positive Energizer"  
Saturday, November 19th at 10:00am.
I'll share what you need to know and what you need to do to activate and energize your team. Get on board to learn more about creating a "Dream Team" that will lead you to success.
As an executive coach and organizational psychologist, Dr. Michelle Pizer knows all about dignity and hope in business. She's studied it. She's lived it. She uses that expansive inside knowledge of the worker experience to give guidance to business owners and leaders like you. She knows firsthand that great leaders aren't born – they're bred. And dream teams don't happen by chance.
Learn PRACTICAL and INSPIRING ways to build your dream business team and thrive in your business.
I'm so excited to hear what my colleagues have to say! You can be sure that I will be tuning in to hear:
Evan Hackel, Melanie Benson Strick, Mel Kleiman, Dr Linette Montae, Rick Cram, Nafissa Shireen, Greg Nathan, Sarah Santacroce, Michele Scism, Skip Weisman, Karen Sherwood, Erlend Bakke, Paul Marciano, Ashley Stamatinos, Ellen Rohr, Brad Federman, Deanna Maio, Sandra De Freitas, Melissa McDonald, Samantha Bennett, Biba Pedron, Pam Ivey, Kimberly Lipari, Steve Olsher and me, JoAnna Brandi share the best of what we know.
Here are just some of the important topics and takeaways from the summit:
Learn the four positions all businesses must fill
Turn your LinkedIn profile into a staff attraction magnet
Hire right the first time
Why entrepreneurs make lousy managers
Common delegation mistakes to avoid
Secrets to building a results driven, accountable and responsive team
Turn around staff who've checked out and given up
Bridge the generation gap
The Positivity ratio that gets you the best results
The "master lever" for creating engagement and performance
Create a championship caliber work environment
And so much more…..
Building a dream business team can feel as elusive as cracking a secret code. But it doesn't have to be.
The late great Dr. Steven Covey (The Seven Habits of Highly Effective People) taught us how to put things on our calendars that are IMPORTANT even if they are not urgent. Get some of the sessions of this 16 day event on YOUR calendar now, so you can catch the ones that really matter for your future. These are important, valuable strategies and tactics for building and maintaining a dream team that rocks!
Make sure to listen in on my dynamic (and fun) sessions with Dr. Michelle!
JoAnna Brandi
P.S. Each interview link will only be available for 48 hours after it's released.
And be sure to let the friends and colleagues in your circle know about this important event. Post this link on your social media sites and let's get lots of people involved. Goodness knows – we want our bosses to be the best they can be! Boss up!

Fb Comments
comments