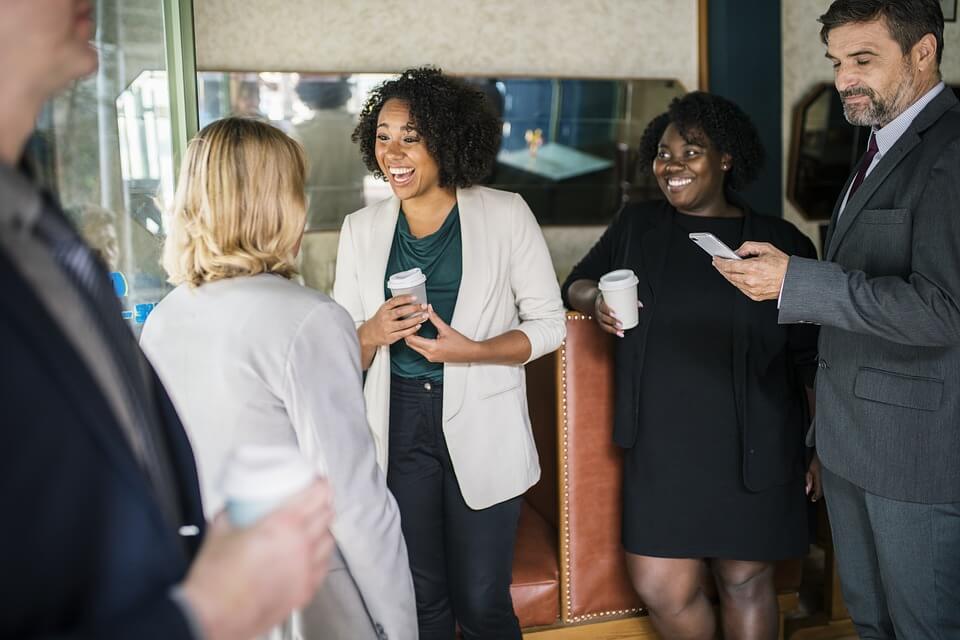 March 20th is coming fast.
Are you happy at work? Is your team happy? Are your customers happy?
As you might suspect, all these things are connected. As you know by now, emotions are contagious and when you're broadcasting the positive, happy ones it effects your well-being and behavior as well as the well-being and behavior of others.
I know that many of the execs I teach often cringe when I first start talking about the subject of happiness. I suppose they might be expecting me to morph into Pollyanna before their eyes. Instead of Polly, they quickly see I am a very serious businessperson with a very serious message. Positivity (the word I use to get visions of little yellow emojis out of their heads) has a serious financial impact on your business, your health, and your community.
Along with having the right goals, strategies, systems, training, people, and positioning in place – positive emotions can give you a distinct competitive advantage.
Fortunately there are lots of positive emotions – joy, love, awe, hope, inspiration, serenity, wonder, confidence, curiosity , pride, delight, to name a few – so you don't have to be put off by all the yellow smiley faces when you think of happiness. (Feel free to substitute the word "positive" if the word "happy" is not one you gravitate towards easily.)
Positivity, when activated, leads in a very straight line to profitability for a number of reasons.
Happy people are 3 – 10 times more creative.
When experiencing a positive emotion the left and right hemispheres of the brain begin communicating better. They enable us to see situations more wholistically and with a "big picture awareness." Creativity leads to more innovation, resourcefulness, and resilience. When you're the company that comes up with more creative solutions for your customers, they'll come to rely on you and come back again and again. They might even bring friends.
Happy people have 65% more energy.
That means they stick with something longer and are able to help their teammates. Often happy people bound out of bed in the morning because they "get to go to work" rather than "have to go to work." There's a big difference in performance there. As a leader, it's your job to manage human energy into the direction of your goals. Happy people give you more to work with and they are more generous too.
Happiness is the new productivity. It's a KPI. It's time has come.
Studies show that people who are happy at work are 31% more productive than their not so happy counterparts are. The biochemicals that the body produces, when the brain is under the influence of one or more emotions that are positive, dial up the learning centers in your brain and even improve your memory. In addition, as a bonus 9 out of 10 people claim to be more productive in the presence of positive people.
Happiness makes you smarter.
And more likely to reach the upper levels of your potential in any area of your life. When you are positive about your workout, your culinary skills, your sports practice, your parenting, your love relationship, you are more likely to do it well. A positive, optimistic attitude opens the door to possibility and helps you see opportunity inside of difficulty.
Happiness boosts immune function and makes you healthier.
Under the influence of positivity your body produces more "T-cells" which fight off invading germs. Positive emotions have been proven to have an "undoing effect" of negative emotions and stress. They bring your heart rate down, increase serotonin (the rest and digest hormone) and fire up your own natural healing abilities allowing your parasympathetic nervous system to work as nature intended.
Happy employees are more loyal.
When people are happy with their work, their team and their boss, they are more likely to become a loyal employee. One of my customers – who works at a company I surely classify as "happy" shared with me that he gets calls from recruiters all the time. Often they promise lots of extra money and benefits – but he's not going anywhere. He loves the company he works for and the people he works with. He's happy there.
Happy people spread the love.
Happy employees with positive leadership guidance take great care of their customers. Their positivity, creativity, and focus on creating value increases customer happiness and loyalty. Happy customers deliver great reviews and happily refer you to their friends. Happy employees take their positive energizing attitudes home to their families and communities sending a positive spillover effect out into the world.
There you go – 7 reasons to celebrate International Happiness Day on March 20th – it's a day of recognition begun by United Nations in 2012 which states that the pursuit of happiness is a fundamental human goal. It recognizes the relevance of happiness and well-being around the world.
What will you do to recognize it in your organization?
Suggestions abound on the internet and we'll be posting frequently on our Return On Happiness Facebook page – between now and March 20th we will be writing more frequently to encourage to do your part in making this a happier world. It starts with YOU.
It's a good time to stop by http://54ways.com/ and learn more about our 54 Ways to Stay Positive in a Changing Challenging and Negative World – find out about the book and click "Home" and sign up for my personal blog there!  (Looking for a fun book for the team – inquire about bulk or customized copies here – 561-279-0027 or JoAnna@ReturnOnHappiness.com
Spread the happy,
JoAnna
#InternationalDayofHappiness #SpreadHappiness #HappinessUnites #KeepEmHappy #TenBillionHappy #ReturnOnHappiness #SpreadHappy #OneBillionHappy
PS Click here if you want our special report "How to Make Your Work Place a Happy Place"
https://www.dayofhappiness.net/share
Fb Comments
comments