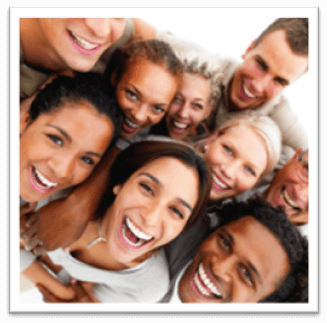 Hello from beautiful sunny Phoenix where I am attending the NACCM Customers First conference. Last year I had the pleasure of being the conference chair, this year I am thrilled to see colleague Kathleen Peterson kick off the main part of the conference today. Kathleen was our first chairperson oh so many years ago when this conference first began. Despite the ups and downs in the economy – companies that are serious to their commitment to their customers are still attending – even if it's the only event they are coming to this year.
Today were the "Summits" a tough choice between the Aligning Social Media with Customer Strategy Track and the Creating Uber Loyalists track. So as you might suspect I did both – spent the morning learning more about social media (which I really needed to do) and the afternoon learning more from the companies that have tried and true loyalty strategies and are readjusting them to align with Customer's ever changing needs.
Everyone – everyone is talking about change and how nimble companies have to be to keep one step ahead.  Becky Carroll, the Founder of Customers Rock! Set us straight on what social media really is – it's a tool to build Customer relationships – to go deeper, to build trust, to build community. It's a word of mouth "Maximizer" and it's a two way conversation. It's a tool for listening.
In fact LISTENING was the point of the whole session – and a few others I attended. Let's stop for a minute and think about that. So many of the articles we read about social media are about building your brand, selling your product, pushing your agenda. Becky's advice is to listen – first. Find out what your customers want – where they want to see you – what they're doing and what you could do to be more meaningful to them.
Frank Eliason who is changing the culture at Comcast says that listening to the Customer is the BEST way to change an organization. He is committed to bringing the Customer's story into the organization – at all levels. He says that EVERY Customer is an influencer. That was a huge take away for a lot of the people in the room. He says that social media takes us back to basics – like Customer Service 101 – me helping you. He's so right when he says "Customers are talking whether you want them to or not," and you'd better know what it is they are saying about you and become part of the conversation.
Often before I work with clients who tell me that want a lot of time spent on "dealing with angry customers" I search the web looking for signs that these angry customers might be talking out loud about their angry experiences and often I find rogue sites where Customers are venting and sharing bad experiences. Companies don't always know about these sites. Frank knew about the one that had Comcast's name on it and set about talking to the people that needed to be heard.
As Comcast hears more and more Customer stories the processes inside the company are changing, the company itself is changing.
His little department has grown to 11 people as they talk to more and more Customers and keep the conversation going inside the company. He takes it all personally – Comcast Cares IS Frank.
I had some time to chat with Frank after the speech was done and I found that the values he espouses are truly his – transparency, authenticity, caring, and Passion with a capital "P".
Speaking of "P's" my next entry will share what Marti Beller of Affinion Group calls the "other" 4 P's. I'm soaking it all in. I'm learning more about how Loyalty Leaders run their companies, love their customers and create great places for people to work. Sweet.
More later…
Fb Comments
comments