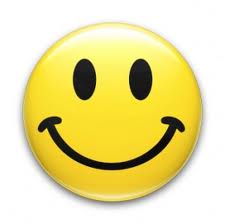 All day yesterday I had been meaning to write this post, but one thing after another kept me from it.  I wanted to call it "Oh Happy Day" but thought better of it after I saw the news last night.
The news hasn't been very good, in fact it's downright bad.
So how do I have the nerve to talk about happiness?
Because learning how to create it and sustain it (and all the other positive emotions) can help to increase productivity, creativity, health and well-being at work and at home.
In fact, having the ability to look at the bad things that are happening with a mind that accepts it yet doesn't focus on it or get attached to it, gives us perspective and the ability to ask the question, "What's possible here?"
August is Happiness Happens month according to the people at the Secret Society of Happy People and we should be celebrating.
I got excited when I found out about this event last week. It's the perfect time to announce the completion of our new Return On Happiness  website and our new Positivity Practices blog.  (Go there and get a special report)
We are committed to spreading the word world wide about the power of positivity and the economic advantages of the creation of more "Positive Capacity" at work.
So today I will suggest that you spend just a little time with the people at the Secret Society of Happy People 
Enjoy the suggestions they have on celebrating Happiness Happens month – take charge of your own world – take charge of your own economy and refuse to buy into the fear that is being fanned like a fire right now.
Yes, I will agree it does seem like the world is burning and we are being challenged like never before AND what we can control is our response to it and our way of looking for the best and the bright and spreading positivity wherever we have the power to do so.
Happiness happens when you cause it to. Happiness is contagious – it's the perfect time to spread it around. Do it.
Fb Comments
comments