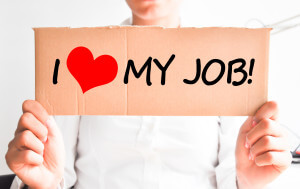 In my experience, there are very few people who are happy at work every day. Challenging customers or bosses, smart competitors looking to put a dent in your business, or even a bad flu season can impact your ability to stay happy and positive at work.
What I have observed is that those who are happiest are that way because they put their attention and effort into being so.
While we all would love to have a job that always gives us the opportunity to be and do our best – for most of us that's not the case. We'll be challenged over and over again by things we don't like to do – or just aren't good at doing. We'll be faced with people we don't like and can't understand. We'll be stretched and pulled out of our comfort zones, oftentimes without our permission.
Some people will remain happy and optimistic despite all this and others will be stressed or sick from the strain and bring that negative vibe home to their families at night.
What's the difference? The intention, attitude and perspective you bring to your work and your job!
On December 7th I was interviewed by dear friend and "Kick-Ass" Career Coach Mo Faul on her Hay House Radio Program,"You Control the View."
We talked about 7 things you can do – immediately – to change your experience of work for the better. Our topic is, of course, is "How to Be Happy at Work" and I promise you'll enjoy our high octane, high energy discussion that will leave you with skills you can put into practice immediately and send you into the evening on a high "vibe!"
Click here to hear Mo's show
 and scroll down to the program list and click on "How to Be Happy at Work" and check out more of her interviews.
Have a happy day!
JoAnna
P.S. Whether you are a CEO or Customer Experience Professional there's a message here for YOU in this program. Kick your life up a notch! Sign up NOW! Join Mo and I live (we'll be doing live Q&A) or get your hands on the recording!
Fb Comments
comments