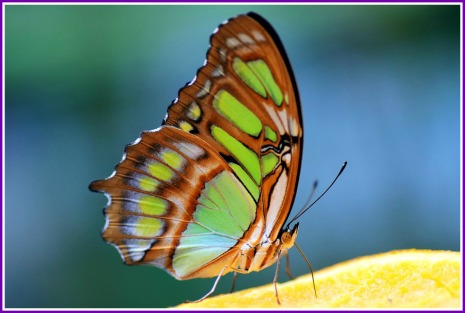 A while ago, I got to visit Butterfly World. Great place. While there, I thought I was going into the gift shop, apparently I was entering the twilight zone….
The layout is cleverly designed to get you to Butterfly World's gift shop.
While browsing, I realized that I had a number of birthdays coming up, so decided to do some shopping. I picked out several gifts, one of which was a pretty stained glass window ornament, the kind that sticks to the window with the help of a little suction cup. I noticed as they were putting my purchase into the bag that the clerk removed the suction cup and placed the butterfly in the bag without it.
"Wait a minute" I said, "I need that suction cup"
Their reply was, "We don't sell the suction cup along with the glass."
A bit taken aback, I asked, "well then, how does it stick on the window?'
I was then 'informed' that I could go to any supermarket and probably pick up the suction cup, inexpensively.
"Oh" I said. "But this is a gift, I want the person receiving it to be able to hang it immediately, and I am not sure when I will be getting to a supermarket."
"Well, we can't sell that to you, we're running low and we need them here."
Now many people might have let it go at that point, but as you might expect, I didn't.
"You don't understand," I said, "As far as I am concerned the ornament is of no use without it, and I don't want to have to go search for a suction cup."
And so it went, back and forth, until the supervisor on duty flatly refused to include it.  I finally told them straight out, "I only want the ornament if it comes with the suction thingy!"
And once again, they refused.
I told them to put it back and to deduct the $10 charge from my bill. By now a little crowd was gathering.  The consensus among the gathered was that the purchase of a window ornament should include the thing that stuck it to the window. But, once again the person in charge refused.
What's wrong with this picture?
How sane is it to turn down a sale for $10 (and jeopardize the rest of the $45 sale – because truthfully had they not been gifts I needed I would have left without anything) for what amounts to pennies?  Strange as it may seem, that's what they chose to do.
They committed a blatant W.A.Y.M.I.S.H.
This stands for Why Are You Making It So Hard (for me to do business with you.)  The term was coined by my buddy the late and great Ray Considine, author of the book by the same name and pertains to any time an organization does something that pushes the customer away, rather then encourages them to do business with us.
How many W.A.Y.M.I.S.H.'s occur in your business every day?
Does your parking lot send the customer to the back?
Does your telephone answering system have more numbers to remember then the human brain can handle?
Is your on-hold music LOUD and obnoxious music or talk shows?
Does your ordering procedure make it close to impossible for the customer to buy something directly from you ?
Are your front line people so defensive that no one would dare register a complaint, but would prefer to slip quietly away and go to the competition?
Unknowingly, many companies set up systems that make it difficult, if not impossible for the customer to buy something with ease and confidence. Many companies have armed themselves with so many rules and policies because they don't trust their customers that they make it hard. Here's something you can do. Put on your customer "hat" and start looking for offensive behavior in your company that could be turning the customer OFF rather then ON.
Call your company on the phone – how hard is it to access a human being or get help?
Can your receptionist answer questions intelligently and direct your customers to the right department?
Drive up to your parking lot at various hours of the day. Is it clean?
Are the spaces for customers and visitors at the front of the building, or are all the good spots reserved for the execs?
Is it brightly lit and safe?
Is the signage clear and understandable to people that don't know what your jargon stands for?
We're always on a W.A.Y.M.I.S.HTM hunt here.
We are usually trying to improve the things on the website that make it hard. We're not done yet, but we're working hard to make it a better place to visit. It takes a lot of time and attention and we're committed to making our place a better place too.
How about yours?
Fb Comments
comments