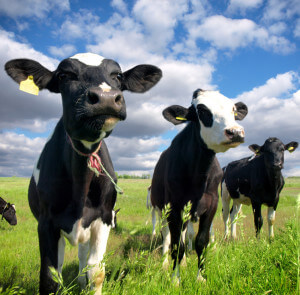 He had a cow head on the truck and a sign that said "You wave and I'll moo."That was Stew Leonard's grandfather who delivered milk from this truck. If you're not from CT you may not know that Stew Leonards is the legendary grocer in CT. The company's leadership style may be considered as wacky as it's slogan. When his young managers get too full of themselves they get an hour in the cow suit and it works.
That mooing cow was the beginning of a multi-generational family business that's known world wide for its customer service. Wacky? Yep. Successful? Yep.
Stew Leonard's grandson, Stew, has entertained and educated attendees at conferences with the family's wacky ideas that came naturally and were successful, like the story of how the "rock" came into existence.
Customer Service 101 – Get to Know Your Customers
In 1969 the retail store opened and Stew stood at door like the maitre d'. He got to know the customers and he listened and took their ideas to heart.
It all started with the Eggnog. Soon after opening Stew offered a special eggnog for the holidays. He loved it but the customers didn't. One day a customer comes in and asks for her money back. She said the eggnog tasted terrible. Stew took a taste and told her it tasted just fine. Stew wanted to be right and the customer wanted to be right. Guess who won? The customer told him that she was never coming back to his store again. It was then that Stew Sr. realized that he lost money and he lost the customer. It was at that moment he decided that it was better to lose money for the eggnog but keep the customer (and keep her happy.)
The Customer IS Always Right
And so the famous Stew Leonard's policy was born and inscribed on a giant rock our side the store. Rule#1 – The customer is always right. Rule #2 If the customer is ever wrong, go back and read rule #1.
Just figure out what they want and get them to walk out of the store happy.
Through the years Stew learned how to make those customers happy. When a new real eastate agent is having a showing, Stew sends over a tray of lasagna. When the agent sells the house, their selling Stew's as well.
How much is that tray of lasagna worth?
I think that if all you watch is what things cost – you don't get to experience what they are worth. Stew had the patience and the foresight to be able to see past the cost and experience the worth of the positive word of mouth and absolute delight of his customers.
Start small – start in one corner of the business and let it grow. When a customer commented that she didn't buy fish there because she didn't think that fish Stew offered in the plastic packaging was fresh (even though it was only packaged that morning) Stew decided to ditch the packaging and put the fish on ice, the "old fashioned " way. Fish sales tripled, since the perception was that it's fresher.
Same thing happened with the strawberries. They took them out of the boxes and let them overflow bountifully. Customers bought twice as much, sales went up – but gross profit on it did go down. Seems they couldn't help popping some of the juicy little wonders into their mouths while bagging them. Did they go back to boxing? No.
As legendary founder of Quadgraphics, Larry Quadracci once said, "There are some things that are so important, you can't afford to know what they cost."
From the petting zoo to the fun the employees have when working to the community service and the "sweaty palms" awards employees get from going outside their comfort zones, Stew Leonards does hundreds of little things right and makes lasting impressions on the hearts and minds of customers and workers.
Fb Comments
comments