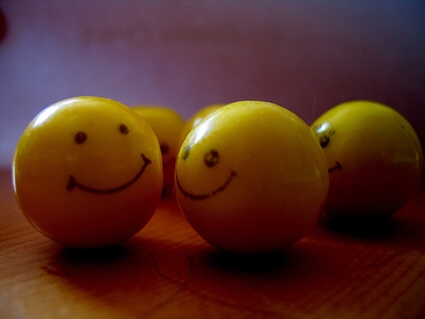 The books are out all over the living room floor. The empty bowl of popcorn evidence I've been writing. (Why do I need popcorn in the house when I am writing?) I am happy. Why? I'm writing about happiness. Thursday night I'm doing a fun event here in South Florida – it's called "Positively Happy – An Evening of Wine, Chocolate and Lessons from a Happiness Coach."
What lessons will I teach? I only have 45 minutes – I have so much to say. The last workshop I did on happiness was three hours long. So last night I took myself out for a walk and just started thinking – what will I tell my new granddaughter when she is old enough to understand? What do I really want my daughter and mother and sister and brothers to know? What are the gems of what I've learned these years of study?
And in what order? Hmmm  – five turned to seven and seven turned to nine and by tonight I'll know if those nine are "it." The books on the floor really help – open to the pages highlighted and written in and post it noted – reminding me of my years of study and the wisdom of my teachers.
And so it goes with the process. I'm nervous as I always am, about getting this speech done on time, and I'm trusting, as I always am that my timing will be perfect and if my brain is waiting for some insight to appear that it will. Just in time. I'll write with my nine lessons soon. After I get them in the right order.
Fb Comments
comments