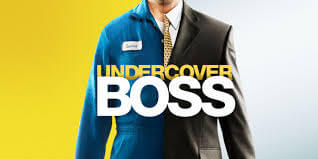 Like many on Sunday night, I watched the premier of Undercover Boss.  Everybody I've spoken to this week has asked me if I'd seen it. You bet and it was a great idea. Today I ran across a great blog entry about it – and I must say – I couldn't have expressed it any better myself – and so I'm not even going to try
http://www.360connext.com/consider-yourself-an-undercover-boss/
Years ago whenever I spoke at an Inc. Magazine conference I would tell the CEO's to leave the room go t a phone booth (yes, we did use them then) and with a slightly disguised voice call into their own company and ask for something the same thing the customers would. By lunchtime several of those people had come up to me to tell me how horrified they were at the way they were treated. I wonder how they would feel if like Larry they spent several days discovering how customers and employees were treated.
Now there's a great twist on the corporate "retreat."
What can you discover about how easy or hard it is to work for – or with you? Ouch! Someone reported to me today that she called and my phone rang many times and then disconnected. Can you see my face? It's red.
Fb Comments
comments