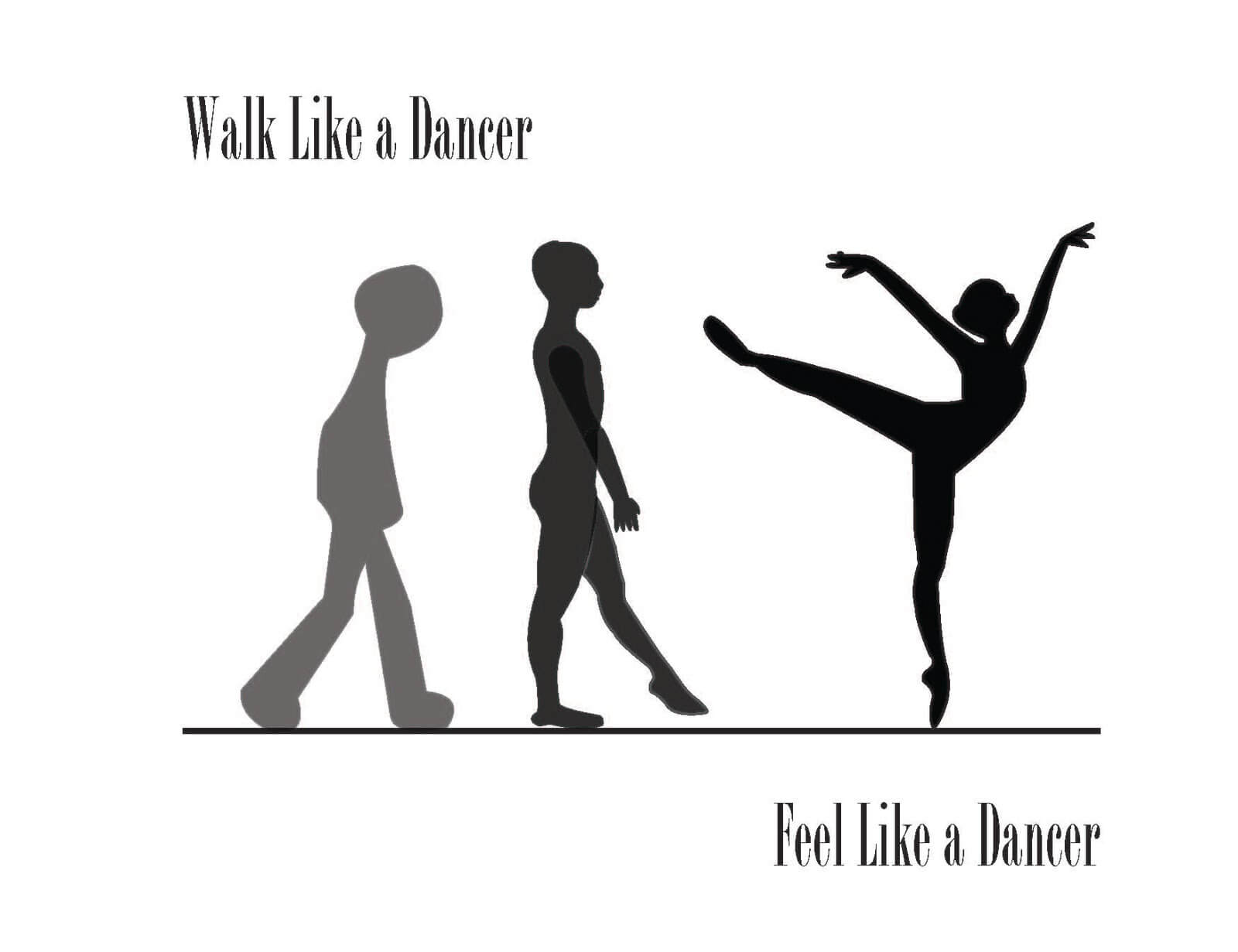 I was schlepping myself and my luggage through the airport this week feeling tired and old when I heard my friend and teacher Scotty's voice in my head. "Walk like a dancer JoAnna, walk like a dancer."
I have to tell you that at that very moment I felt myself grow taller, I felt my gaze rise from the moving sidewalk to what passes for a horizon in an airport, I took a deeper breath, I lifted my head and heart and then exhaled. My thoughts were of how a dancer might move her body through an airport pulling luggage. I figured it had to be different than the way I'd been doing it. So I made up, in my mind, a vision of how I thought a trained and graceful dancer would be moving herself through the tunnel between terminals A and B – a mighty distance.
Scotty, tries to teach me to dance, and once in a while succeeds. (That is, if I'm in town when he's in town and there's space in our schedules.) I'm a tough student. And if I never learn to dance that's okay. Scotty taught me how to walk – forward and backward – across a stage, down the aisle forwards and backwards with confidence, poise and grace. I'm not sure of the score he would give me if he actually saw me work with an audience, but I know that I can continue to improve if I allow myself to keep hearing Scott's voice in my head. "Walk like a dancer, JoAnna, walk like a dancer."
What a beautiful reminder for me of a principle I teach (and sometimes forget to practice myself) Act "As if."  I wrote about it in my first book "Winning at Customer Retention, 101 Ways to Keep 'em Happy, Keep 'em Loyal and Keep 'em Coming Back"
Here's an excerpt on that wonderful practice.
"Service providers can't be expected to be nice all the time, to be polite all the time, to care all the time, can they? No —not human ones, anyway. However, there's a skill that's easy to apply that can bridge the gap between the times you feel genuinely, positively involved in your interactions and those you don't. I call it acting "as if."
What if you've had a tough day?
Can you act "as if' you haven't? Or, if you feel confused about solving a customer's problem, ask yourself how you'd act if you weren't confused. Suppose you've just heard some not-so-encouraging words from a supervisor about the status of your big project, and now you have to get on the phone with a customer. Can you act "as if' the interaction with your supervisor didn't take place, muster faith in your ability to overcome adversity, and go on to help the customer? You have a headache; can you act "as if' you don't?
As a performer, [and you ARE] you'll be called on to perform when you simply don't feel like it. Skilled performers — actors, speakers, service reps, and salespeople — have developed great confidence in their ability to "do what they have to do." Many know the act "as if' secret.
As a performer and frequent traveler, I can assure you there are many times when a delayed flight, a night of fitful sleep in a hotel room, overwork, or a cold threatens my ability to do my best in front of an audience. But what are my options? Cancel the perfor­mance? Resign myself to giving a bad show? Beg the audience for forgiveness? I've never considered any of these acceptable alternatives. With faith in my ability to rise to the occasion, I act "as if" — as if I had a good night's sleep, as if I were feeling terrific. Very often, I find myself starting to feel just that way.
When I'm nervous, I remind myself how it feels to be at ease
How my voice sounds, how my face looks, how I stand. I try whatever I can to affect that other feeling. Very often, by changing something in my body, by acting "as if," my mood changes and then my attitude and state of mind follow suit.
Begin right now to act "as if' you have faith in your ability to succeed as a performance specialist and relationship expert. (Of course, this includes taking action, not just harboring positive thoughts.) Remember, if you act helpless, you'll be helpless.
If you act creatively, on the other hand, you'll be creative. Acting resourcefully can make you resourceful. Cultivate the habit of acting like a first-rate, best-in-your-class customer-care expert, and it will be so."
Well said, even if I say so myself.
So there I was standing tall, breathing deeply, pulling my luggage through the strangely psychedelic underground tunnel in the Detroit airport, acting "as if" I was one of those people on "Dancing with the Stars." The experience was fun. It gave me energy, It stretched the muscles in my body and it put a smile on my face. It simply had to be healthier then schlepping through the airport with my head down and my shoulders bend. .
"Act as if," is a simple and powerful concept used by people in all walks of life.
When Billy Joel is struggling with writers block he puts on a particular set of clothing – relaxed and easy – goes down to the coffee shop where he has successfully written things before, buys the same kind of beverage, and takes out his old familiar notebook and pen. He puts himself in the same spot – "as if" the words and music were flowing from his fingertips. Because the body and the mind are so connected, he knows that when he puts his body in the same place, his mind will follow.
Where will you find the opportunity this week to "Walk like a Dancer" and act "As if?"
May you have many opportunities to excel!
Fb Comments
comments