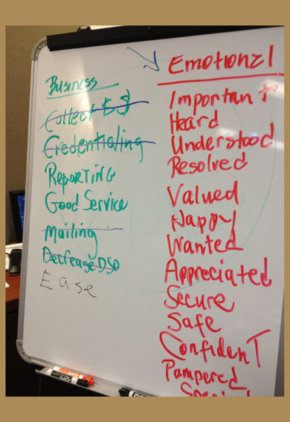 Pick up any business magazine today and (finally) there are some frank discussions of how you make your customers (and employees) feel and the importance of deliberately creating positive emotions in the experience. The more companies understand that the better we all will be. As consumers and as suppliers.
Feeeeelings.. it's all about the feeeeelings…
When I'm presenting I always take time – a lot of time – to talk about the "F" word in business. Feelings.
The way I figure it, your customers (and employees) have little check lists in their heads. As they experience an interaction with you and your company they are calibrating how they feel. At the end of the experience they quietly calculate your score and evaluate how you did based on their expectations.
This calibrating, calculating and evaluating is usually done just below their level of awareness, unless you did really well, quite poorly or until you ask them to give you feedback. Then you are inviting them to bring the moments of truth to light. Be sure to ask how they were feeling and what made them feel that way.
Here's my definition of the Customer Experience: The sum total of the feelings evoked as a result of any interaction that takes place at any touch point in the company. It is based on the perception of the value delivered, both tangible and intangible.
In my 26 + years in this experience business I can assure you the part that is the hardest to master is that intangible part. Hard value is easy to see, soft value, not so much.
There's a difference between real goods and feel goods and the more you dive into to discover what makes people feel good, the more successful you'll be.
Start identifying how you want them to FEEL and then ask the question, "What will make them feel that way?"
With appreciation,
JoAnna
P.S. I CAN"T GET THE SONG OUT OF MY HEAD!  Feeeeelings!  Now you have it.
Speaking of feelings – I'm getting excited about the completion of my new E-Course: The Practice of Positive Leadership: Use the Science of Happiness to Keep Employees Engaged and Customers Happy.
It looks like it will be ready in time for Customer Service Week and http://www.cxday.org/
Fb Comments
comments