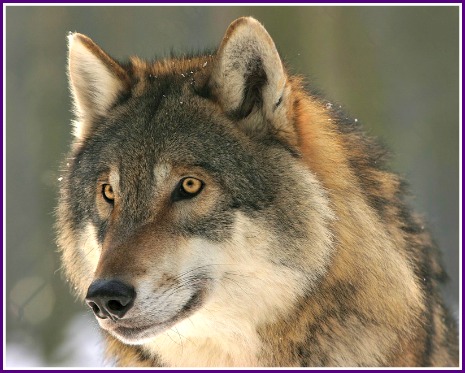 Let's look at a story that is a lesson in setting intentions.
One evening an old Cherokee told his grandson about a debate that goes on inside people. He said, "My son, the battle is between the two "wolves" inside us all. One is anger, envy, jealousy, sorrow, regret, greed, arrogance, self-pity, guilt, resentment, inferiority, lies, false pride, superiority, and ego.
The other is Good. It is joy, love, hope, serenity, humility, kindness, benevolence, empathy, generosity, truth, compassion and faith."
The grandson thought about it for a minute and then asked his grandfather: "Which wolf wins?"
The old Cherokee simply replied, "The one you feed."
There are two ways we can look at the world today.
We can focus on the unemployment, the long lasting recession and our inability to get on top of the environmental issues. We can count the murders and kidnappings across the land and conclude that this is a really bad place. We can see illness and bankruptcy all around us. We can be fearful and pessimistic about our future.
Or we could turn our eyes past what we initially see (because bad news is all around us) and look for and find the good, the optimistic, the hopeful and the faith all around us. We can look at the perseverance of the human spirit, our willingness to work hard, the parts of the business world that are doing wonderfully, the families that have come closer together and ways we've learned and invented new things. We can be hopeful and optimistic about our future.
As a leader, how you see the world matters. How you think matters and how you communicate matters. A lot.
According to author and University of Michigan professor Kim Cameron, the single most important factor in predicting organizational performance – twice as powerful as any other factor- is the ratio of positive to negative statements.
Research has revealed that in high performing organizations that ratio is about 5:1.
Five times more acknowledgement, affirmation, praise, good will, recognition, compliments and focus on strengths than sarcasm, criticism, cynicism or corrective actions related to weaknesses.
Five times more questions focused on what's strong rather than what's wrong. Five times more focus on what's right and what you want to create rather than on what needs to be fixed and what you don't want.
5:1 Positive:Negative. I'll pause while you let that sink in.
Your positive (or negative) framework for seeing the world directly impacts your organization's success.
So now's a great time to talk about setting intentions.
If you know me, you know I believe that intention is a force as powerful as gravity and when harnessed can pull what you want towards you. So I don't do resolutions on New Years (since we know most of those will be broken by Valentine's day) I do setting intentions.
Intention is purpose. It's declaration, it's designing what you want. It's vision and meaning and focus. It's a commitment strong enough to move energy. Woo hah! I'm in. How about you?
As a leader what will you INTEND in this new year?
To develop a more optimistic outlook?
To create more happiness for yourself and others?
To get those customers talking about you? (Positively of course!)
To look for the good in everyone you come in contact with?
To see the good and the gift in any situation? (Yes, even the screaming customer that gave you a chance to practice your best communication and soothing skills.)
To show up wherever you work in the best possible mood you can muster? (Even if it means you sit in the car for 5 minutes creating it by focusing on something you appreciate.)
To listen for and find the strengths in your people and your situation?
To focus yourself and others on the reason – the mission and purpose of your business?
To become a Positive Leader?
To master the 5:1 ratio? (Okay, to work on mastering the 5:1 ratio)
To bring more balance and harmony to your life?
To make it easier for customers to do business with you?
Set some intentions for this fresh new year.
Share them with the team (yes, even the personal ones) After you set your intention, think about the many ways you might practice getting there.
If you need help, stay tuned. Our intention is to create more positive, customer focused content than ever. We're expanding our offerings to accommodate every budget and opening a new blog on Positivity Practices. We'll be doing more audios and videos for you too.
I intend to be more prolific! I intend to be more organized. I intend to be more concise. I intend to laugh more and fret less. I intend to expand my reach.
Right now I'm reaching right out to you.
May your life be filled with all the health, happiness, love, light, and success you want.
Happy, Happy
JoAnna
Fb Comments
comments